It's safe to say that we have all entered into a hyperactive digital era. 2.14 billion people consume products they see online rather than on television on a global scale.
How many hours do you spend online each day looking for things you want to buy? The simple answer to that question says a lot about how influencer marketing differs from traditional advertising. For Filipinos, television has been the undisputed champion when it comes to consuming conventional media for decades. That is until we all can easily access online content using our smartphones.
Today, there are 73.9 million internet users in the country, with a significant slice embracing influencer digital marketing. While the heyday of traditional marketing on print, radio, and television has drastically faded, 2022's influencer marketing strategies are keeping businesses afloat even during the pandemic.
However, that doesn't mean that traditional marketing has finally met its end, as you can still perform them online. As for the decade-long debate on which strategy is better, influencer marketing is an entirely different monster compared to traditional ads. In this article, we discuss what sets both apart from each other.
Broader Reach at Lesser Cost vs. Scaling Ad Campaigns
First, let's clear one thing out: Both traditional ads and influencer digital marketing promote content with the right audience in mind. However, a few things may differ in terms of results, and one of them is reach.
Marketers can indeed post traditional ads on their brands' social media feeds. However, sometimes formats fit for other channels just won't cut it online. Enter social influencers who know which formats work on social media to reach and engage their audiences.
The numbers show that 78 percent of today's younger generations turn to the internet for brand discovery. 70 percent of Generation Z and Millennials comprise the Philippine population. These figures point to how influencer digital marketing strategies can better reach a bigger slice of the consumer population this 2022.
On the other hand, ad blocking apps can easily dismiss traditional ads.
One example of how traditional ads work online is how brands compete on your feeds. Depending on how platforms prioritize the ads' views, some you see, and some don't.
The more ad spend a brand bids on the platform for paid ads, the broader they can reach target audiences. This tactic may work for traditional ads if you have the budget. But influencer marketing is a more cost-efficient way to reach thousands (if not millions) of your target audiences.
The fact that social influencers have already established a strong following spares you the tedious work of A/B testing your ads. However, the most challenging task in influencer marketing is identifying specific buyer personas that you can better achieve via traditional digital marketing.
Micro-influencers vs. Celebrities: Which to Choose?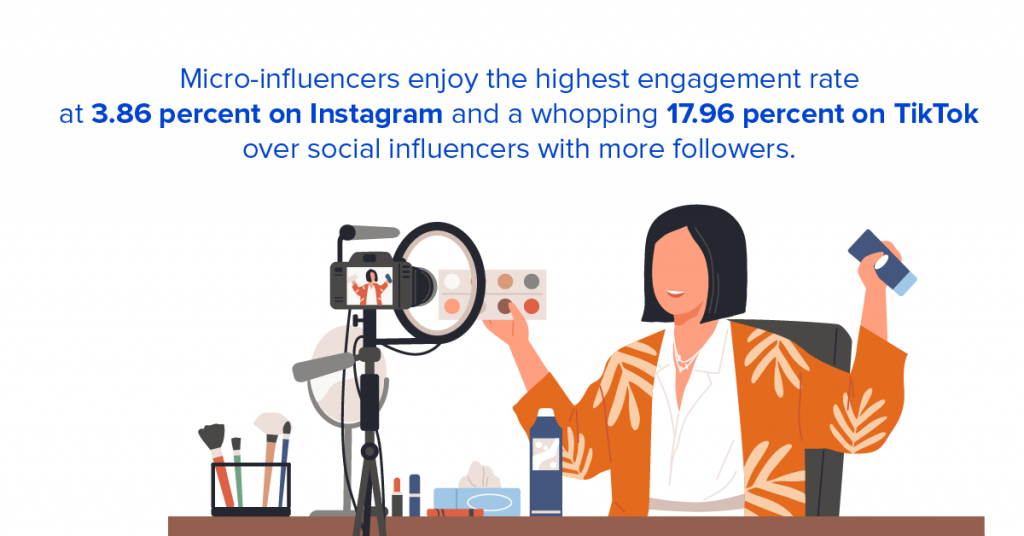 The best influencer marketing strategies today find leverage on the trustworthiness of social influencers. A business's target audience is easily accessible for engagement and eventually conversion by tapping a reputable middleman who walks the walk and talks the talk.
On the other hand, traditional ads via celebrity endorsements have lost their glamorous vibes as more consumers have become more thoughtful. Along with the current pandemic's disruption is how more customers focused on their needs more than wants. Who better to turn to for advice than your relatable social influencer, right?
Today, micro-influencers with a humble following of 3,000 to 10,000 contribute more to sales than the ratio between what brands spend on expensive ads with celebrities and their ROI. Micro-influencers enjoy the highest engagement rate at 3.86 percent on Instagram and a whopping 17.96 percent on TikTok over social influencers with more followers.
The reason behind this phenomenon is "social proof." Micro-influencers narrow the gaps between your average Joe and key opinion leaders, making themselves more relatable to audiences. They are more credible than superstars who sometimes make you wonder if they even include a can of sardines on their diet.
While famous celebrities can still help brands push their message through traditional ads, micro-influencer digital strategies have a bigger chance of giving you online mileage. Sometimes, all it takes to get them onboard are a few complimentary products they can review online.
Short-lived vs. Evergreen Influencer Digital Marketing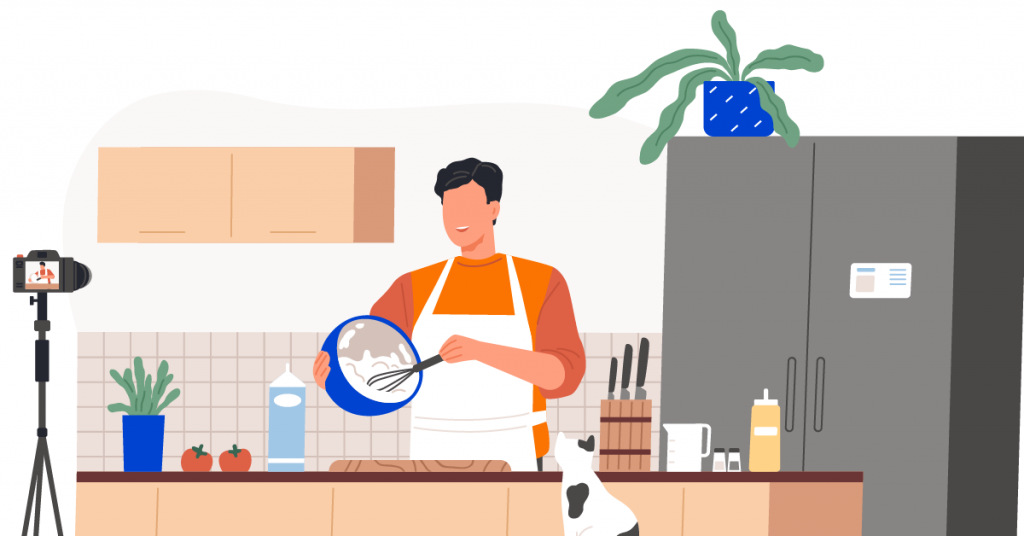 If a brand has the budget to showcase its traditional ads for the long-term, the better its chances are to strike a chord with consumers. The problem comes when the cash runs out, and the ads can no longer perform their purpose.
Posts intended to promote brands can never be taken down once they go live in influencer digital marketing. Social influencers usually post original content that features brands and makes them evergreen content or repurposed as backlinks to the brand's landing pages.
And backlinks are just that: trusted links to boost your search engine optimization efforts. Needless to say that most of what applies to traditional marketing you can also perform in your influencer marketing strategies.
The best thing about an influencer digital marketing strategy is its ability to engage audiences and social influencers in native advertising tactics that can increase your page rank, boost brand awareness, gain valuable insights, and deliver results.
Organic Content vs. Sponsored Ads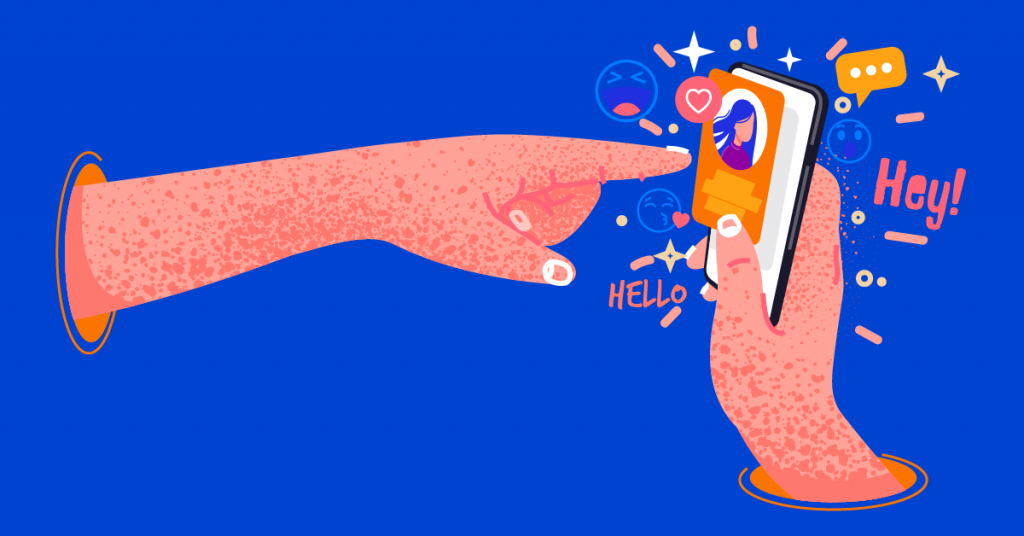 Partnering with social influencers as part of your 2022 digital marketing strategies will allow you to penetrate untapped markets. Even those you can't reach via traditional marketing alone.
What elite influencer strategists do is offer content that's not too disruptive and has a genuine feel. A practical influencer marketing example is when you browse your smartphone and chance upon organic content that features a thought leader you've known for a while. Naturally, like most folks, you'll give the influencer a view more than click a sponsored ad on your feed.
Organic content also makes your social influencer's posts more genuine and your selling discrete. In short, your business can develop more authentic customer relationships. And that's something you can get from influencer digital marketing that traditional tactics won't get you in real-time.
Simplifying your influencer's content also takes off much of the workload from your traditional advertising campaigns. What's important is that you are able to offer quality content that your target market finds valuable.
Of course, it follows that the social influencers you hire also work hard to maintain their reputation and following. It's always a good idea to get them into your creative production process to maximize your posts' results.
The Verdict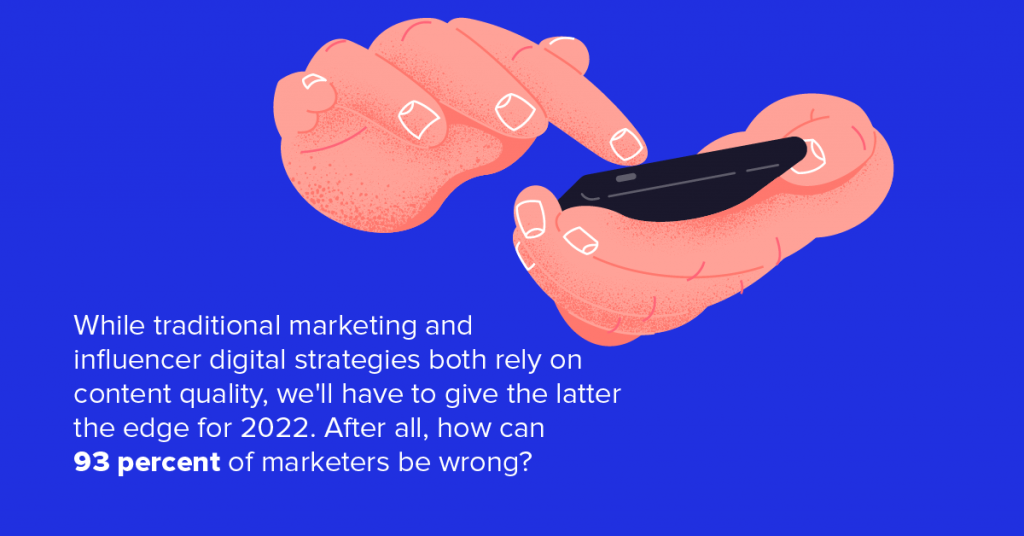 While traditional marketing and influencer digital strategies both rely on content quality, we'll have to give the latter the edge for 2022. After all, how can 93 percent of marketers be wrong?
Smaller players that are new to the market can take advantage of the benefits influencer marketing can offer, especially in raising awareness, pushing messages, and lead generation. Meanwhile, established brands can do more by balancing their flags on both forts.

This year, what can help your business is to boost the promotion of your social influencer's organic posts. Focus more on indirect endorsements rather than producing a high-priced television ad. You not only save marketing funds, but you also gain the trust of your target audience at lower costs.
---
---
FOLLOW EIGHT MEDIA TO LEARN MORE ABOUT HOW YOU CAN DEVELOP THE RIGHT INFLUENCER DIGITAL MARKETING STRATEGY FOR YOUR BRAND
---